Livechat: AngelLive

AngelLive(エンジェルライブ)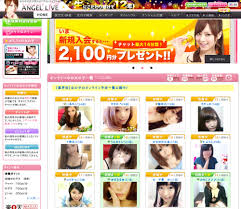 AngelLive is a Japanese live chat service where you can chat with local girls.
Here is good chat service if you are very new to live chat.
There are over 6,000,000 girls. I think here is the biggest live chat service in Japan.
Their site is local, so you need to know Japanese language or use translation.( There is a English page but not all translated well)
If you have any question, feel free to ask us.
Features

Chat with young local Japanese girls
Cost
You can get free point first
2500yen free points
300points 3000yen
500points 5000yen
1000points 10000yen
2000points 20000yen
3000points 30000yen
5000points 50000yen
How to register
Go to Angellive↓

Click Yes(はい)

Click English page

Then You will know.
Join to AngelLive