ASOBO

Asobo is established in 2001 ,and they are well know dating site in Japan.
They target female members so the design is very cute and feminine.
You can also download Asobo APP. (note:  you need Japanese mobile email address)
Features
APP
Reasonable
If you confirm your age, you can get free points.
Friend BBS
Special search
Adult BBS
Online chat
Membership fee
For men = point system
For women = free

Free service
┣General search
┣send mail , recieve mail
┣Photo
┣check bbs
┣post bbs( once a day)
┣blog
┣Asobo game
┗see female's profile
Paid service
●Send mail etc
How to join
Go to ASOBO . click to join

click which phone u use. other, iphone, android.

If you choose iPhone or android, then you can download the APP. or fill in the form.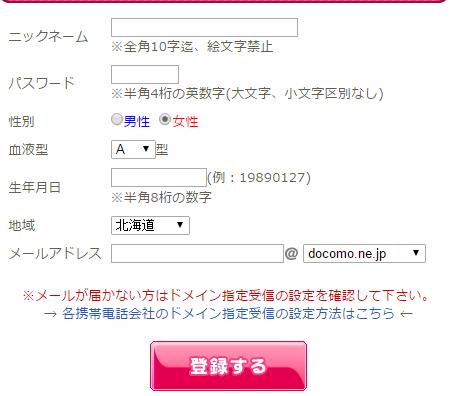 ニックネーム=Nickname ,パスワード=password,性別=gender(M,F),血液型=blood type,生年月日=birth day,地域=place you live(eg.Tokyo=東京),メールアドレス=mail address in Japan.(note:  you need Japanese mobile email address)
then you will recieve confirmation mail. click the like to confirm.
You need to verify your age.
Go to ASOBOメインメニュー(main menu) then click 『サブメニュー』 (sub menu) then click 『年齢確認』 (verify your age)
You can verify your age by any ID , or purchase point by credit card.
Their site is local, so you need to know Japanese language or use translation.
If you have any question, feel free to ask us.
Join to ASOBO