Korean Sexy massage(Korean girl)

In Korea there are various sexual services. But compare to Japan and Thailand, not much.
Some bar bar offer hand job and blow job.
In Korea There is a massage service called "an ma". here,  you can take a service just like soup land in Japan.
However unfortunately most of them refuse western customers. if you speak Korean good, you might be welcome.
Fee is from U$100 to U$200.
Besides an ma massage, there are also massage rooms and massagi bang.
Those shop does not put a sign board.
Girls working here are very young. many teenagers are working here.
Fee is about 80,000 korean won.
We recommend massage rooms Belle in guangnan.

In Korea, there are other service called Kiss bang. here you can kiss and body touch her, and some shop has option service like blow job , hand job, and sex.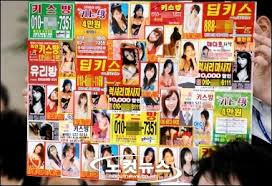 Fee is 60min, 70000 won for kiss, body touch , 50000 plus handjob  100000 plus blow job.