Blowjob bar in Pattaya (Thai girl)

Carre Blanc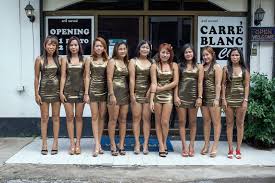 Carre Blanc is being open from a long time ago.
Young women are a lot and, They will suck your cock in the back of the curtain.
Just like Drinking beer and suck. Near the this shop also there is anotther  bar called the Telephone Bar.
Here you can just touch their tits.
Bliss Lounge
Bliss Lounge is a place like a restaurant, but there are  bar and pool.
Here women are very cute, they're wearing sexy clothes. And also very friendly.
Club 4
Club 4 is  probably best blowjob bar in Pattaya. good location,and you can receive the service while drinking beer and watching the girls mini skirt.
Here has many girls.
I think Pattaya has many sexy services than Bangkok.There are many Dance clubs and sex shops, and also girls who stand by beach( they ask you to have sex).
Town of Pattaya is very conpact so it is very easy to know for travelers.
Drinking cost is around 100-120 baht for  Singha beer. Then You negotiate girls to receive a service.